If you follow the blogs and tweets that emanate from the Bodleian Libraries you may have noticed EMLO is involved in an initiative called Bodleian Student Editions, an exciting new scheme set up to explore the potential of the Bodleian's resources for cross-disciplinary training, and, at the end of a busy but productive term, I'd like to draw your attention to something extremely special that has just become available as a result of this inspiring collaboration. A 'thing of beauty', no less.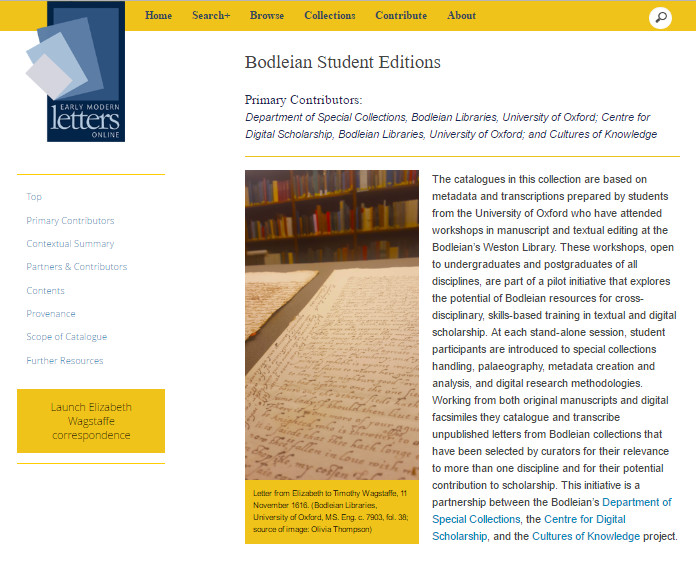 A collaboration between curatorial staff from the Bodleian Libraries' Special Collections department, the Centre for Digital Scholarship, students at the University of Oxford, and our own Early Modern Letters Online, Bodleian Student Editions took root early in 2016 when a number of us met at a conference — Digital Editing Now — in Cambridge (and I shall be eternally grateful to our own Faculty of History for the generous sponsorship that enabled me to hop on the X5 bus, spin round the roundabouts between the two universities, and attend). A subsequent series of fruitful conversations, an altruistic willingness for genuine collaboration, a truly excellent student-led conference here in Oxford last June (Speaking in Absence: Letters in the Digital Age), and a remarkably lucid vision shared by the partner participants have combined to nurture Bodleian Student Editions from a glimmer in the collective eye to six pilot workshops scheduled across this current academic year.
Each standalone session offers twelve students (from any Faculty, either undergraduate or postgraduate) an introduction to the handling, reading, and transcribing of pre-selected manuscript letters from Special Collections. Students work in pairs to transcribe; they don editorial hats to check transcriptions prepared by others; they collate metadata; they conduct research into the relevant early modern people, places, and events; and they enter their work into EMLO using the catalogue's webform. Mike Webb (the Bodleian's Curator of Early Modern Manuscripts), Pip Willcox (Head of the Centre for Digital Scholarship), and I (as EMLO's editor) lead the sessions, offering advice on the range of issues that should be considered, and the decisions made, when working with manuscripts in a digital environment, and guidance is provided concerning subsequent training in XML/TEI and the use of visualization tools.
The six letters selected for the inaugural session were written from Elizabeth Wagstaffe (neé Fuller) to her husband Timothy Wagstaffe, a lawyer at Middle Temple. Elizabeth was a daughter of Nicholas Fuller, the puritan lawyer and MP, whose family home was at Chamberhouse, near Thatcham, in Berkshire. Elizabeth married Timothy, the son of Thomas Wagstaffe of Harbury, Warwickshire, on 2 January 1604/5. Timothy, who matriculated to Oriel College, Oxford, was admitted to Middle Temple on 12 May 1597. He purchased the manors of Tachbrook Mallory and Bishop's Tachbrook, near Warwick, and these Bodleian letters provide a fascinating glimpse into the running of the couple's busy household. Five of the letters were sent by Elizabeth from Warwick, and include snippets of news concerning many of the local gentry. (There is mention, for example, of Sir Bartholomew Hales, J.P., of Snittersfield, the village in which Shakespeare's grandfather was a tenant farmer and where the bard's father, John Shakespeare, was born.) The earliest letter is written in 1616 from Fuller's house in Berkshire, where two of Elizabeth's sons had been born and baptised in 1615 and 1616, and recounts the preparations for a 'agrate meetinge, att Margetts mariage [possibly that of Edward Folwell and Margaret Fowell on 20 November 1616] (of folke from Newbery, and Thatcham)'.
As our Michaelmas term draws to a close, I'm delighted to announce tangible results of this initiative with the first cluster of letter records published in EMLO under the aegis of Bodleian Student Editions and, of course, the promised 'thing of beauty': a set of gorgeous images of the manuscript letters themselves. It is here, and not for the first time, that thanks are due many times over to Bodleian Student Editions' wonderful and inspiring Olivia Thompson (Balliol-Bodley Scholar and DPhil candidate in Ancient History) and Helen Brown (DPhil candidate in English), and to the Balliol Interdisciplinary Institute, which generously covered imaging costs for these letters, and I hope everyone who clicks through from the records in EMLO will agree that Digital.Bodleian could not be a more perfect platform for their display.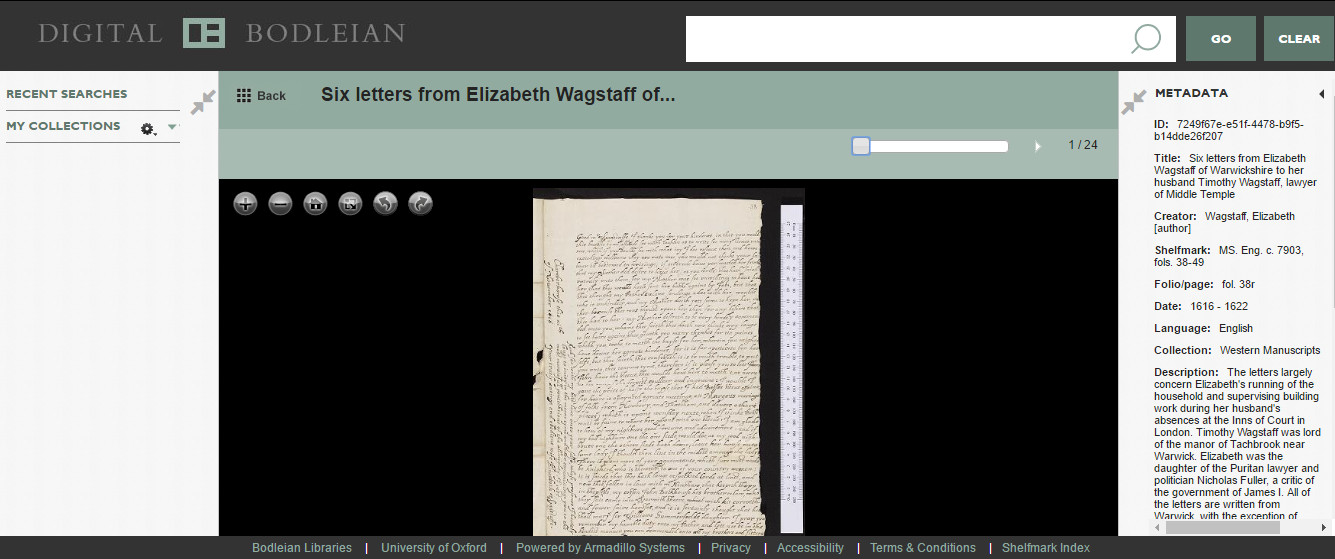 The metadata and transcriptions created during the second Bodleian Student Edition workshop, which was held just over a week ago, will be added to the EMLO catalogue early in the new year. The scheduled sessions have been so heavily over subscribed that a waiting list is now in operation, and we're truly delighted so many students are keen to participate. It seems the future of scholarly editions gleams bright, and we hope, as you pore over these letters of Elizabeth Wagstaffe, you'll hear her voice loud and clear and will find in EMLO and Digital.Bodleian treasures that can remain 'a joy for ever'.