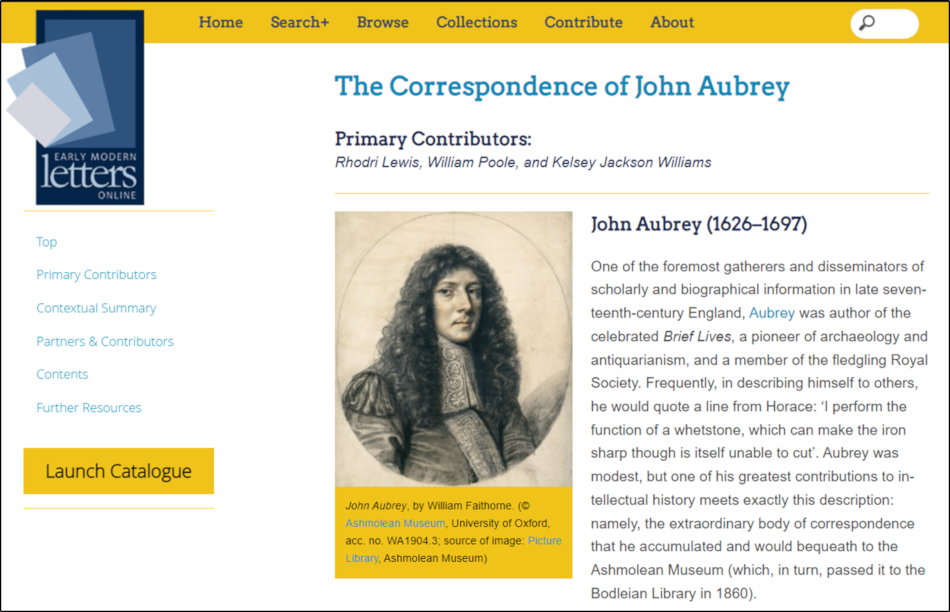 Applications are invited for a two-year full-time postdoctoral fellowship to assist with an edition of the complete correspondence of the seventeenth-century biographer, antiquary, and natural philosopher John Aubrey (1626–1697). The surviving corpus of Aubrey's correspondence is significant, totalling around 900 extant letters, chiefly located in Oxford repositories. The successful applicant will assist Dr William Poole of New College, University of Oxford, in the completion of an annotated edition of this corpus, to be published in printed form across several volumes, as well as potentially to be made available electronically.
Aubrey's letters have not been edited hitherto in their entirety, although portions of his correspondence have appeared in the complete editions of some of the figure with whom he corresponded, for instance Isaac Newton and Thomas Hobbes. Manuscripts of his letters are widely scattered, but the majority are to be found among the Aubrey, Tanner, and Wood manuscripts in the Bodleian Library. The successful candidate will be expected to take responsibility for the transcription and editing of the letters in MS Aubrey 12 and MS Wood F 39, and to divide the remainder with Dr Poole.
The closing date for applications is Wednesday, 27 April 2022; interviews will be held towards the end of May. For further details about how to apply, please see here.