With travel on this virus-ridden planet restricted at present, scholars in Prague have prepared a unique and apposite event to mark the three-hundred-and-fiftieth anniversary of the death of Jan Amos Komenský, known universally as Comenius. At midnight (Czech time) this coming weekend, as we slip from Saturday, 14th November into Sunday 15th, admirers of the Moravian-born pansophist and educator will begin an online relay of readings from his works. This marathon is due to criss-cross through five continents for a full twenty-four hours in a plethora of languages—from Czech and Latin (in which Comenius spoke and wrote), to Dutch, English, Esperanto, French, German, Hebrew, Hungarian, Italian, Japanese, Kashubian, Lithuanian, Polish,  Romanian, Russian, Slovak, and Spanish—as scholars, students, and teachers, each of whom has selected excerpts from his or her favourite works, read for an allotted fifteen minutes before passing the 'virtual lectern' to a successor.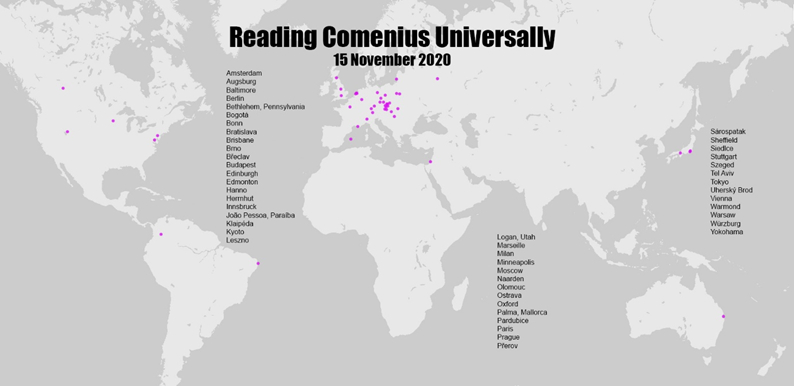 The texts selected will include passages from Comenius's well-known philosophical and educational treatises, including Labyrinth of the World and Paradise of the Heart, Didactica Magna, and The School of Infancy; there will be extracts from his textbook Orbis Sensualium Pictus, and from his pansophic works related to the idea of universal reform, for example Via Lucis and the General Consultation on the Improvement of Human Affairs. Interspersed amongst these published works and translations, will be readings of a number of his surviving manuscript letters.
Together with colleagues in the Department for Comenius Studies and Early Modern Intellectual History at the Institute of Philosophy of the Czech Academy of Sciences, the Comenius scholar Dr Vladimír Urbánek has planned this virtual pilgrimage to begin and conclude in Prague. The first text, which will mark the beginning of 'the journey', Dr Urbánek explains, will be 'a fragment from the Panegersia, or Universal Awakening, in which Comenius turns to citizens of the whole world'. The day's homage—both in its multiplicity of languages and in its global reach to a world wide audience—is a poignant reminder of the journeys Comenius himself, as an exile, undertook, of his own Via Lucis (The Way of Light), written in London during his visit in 1641–2 but not published until 1668 in Amsterdam, and of the spread and reach over time and across continents of his works and his ideas.
To coincide with the Reading Comenius Universally anniversary event, the BBC World Service is broadcasting Comenius: A Pioneer of Lifelong Learning. Featuring Dr Urbánek, Professor Howard Hotson, and Dr Yoanna Leek, this programme sets Comenius's long life (he died at the age of 78 in 1670) in the context of the war-torn continent through which he travelled and considers his contribution to modern thought and education today. Scheduled times for the programme's live broadcast vary by country and region, but it is available for download from the BBC's 'The Forum' webpage, or it may be accessed via the Oxford platform Cabinet.
Vladimír, who also heads the team of scholars working towards a complete modern edition of Comenius's work and who has overseen the compilation and curation of an inventory of the pansophist's letters in EMLO, has worked with Howard to display on Cabinet a number of maps, based on metadata drawn from the surviving correspondence, that show Comenius's movement across the face of Europe, the recorded places of sending and receipt of his letters, and the location of his extant manuscripts. Howard Hotson has provided in addition a detailed description of the title-page of Opera didactica omnia (Amsterdam, 1657), which was designed by Crispijn de Passe and engraved by David Loggan.
A number of passages from Opera didactica omnia will be read in the course of Reading Comenius Universally and everyone is both welcome and encouraged to tune in and witness the live-streamed event on the YouTube channel Comenius. This virtual journey on the world's stage is set take us deep into thoughts and writings of one of the most relevant early modern thinkers, and it will end back where it began, in Prague, at midnight (CET) as Sunday, 15 November draws to a close.