The catalogue published in EMLO this week, that of the diplomat Robert Beale, takes us straight to the heart of Elizabethan political and administrative circles. As Clerk to the Privy Council — a position which he held for almost three decades — Beale was witness to a succession of extraordinary events in turbulent times: he played a significant role in the misfortunes and fate of Mary, Queen of Scots, and he conducted a series of high-level diplomatic missions to the Low Countries and to Germany.
This calendar of Beale's correspondence is made up of one-hundred-and-one items in the care of the University of Aberdeen. Spanning the entire second half of the sixteenth century, many of the letters relate to international and domestic affairs of state; others bear testament, however, to Beale's own personal connections and to his scholarly bent: he corresponded with, for example, David Chytraeus, the Lutheran Professor of Greek at the University of Rostock, and with André Wechel, the reforming printer who was based first in Paris and then — following the Massacre of St Bartholemew in 1572 — in Frankfurt.
At EMLO we are truly delighted to be working with Dr Andrew Gordon, the scholar heading the Robert Beale project, and with the Special Collections Centre at the University of Aberdeen.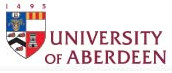 The Library has generously made available digital images of the manuscripts, and users will find links to these from each letter record in EMLO. Dr Gordon has included metadata from the earlier researches of James D. George (1906–1977), a former secretary of Marischal College, who prepared a handlist of items in the Beale papers and made partial transcriptions and notes on the majority of these. The Beale papers were recorded initially at King's College in an inventory of 1771. Although it is not known how they entered the collections, it seems likely they formed part of a donation from Dr James Fraser (1645–1731) a book dealer and supplier to the libraries of the later Stuarts, who made significant benefactions to King's College in the decades preceding his death. Work on the Robert Beale project is ongoing and to facilitate research the calendar created during this initial stage is being released sooner rather than later. Significant additions, together with revisions, made in subsequent phases will be uploaded as they become available.
Increasingly EMLO is working in partnership with libraries and special collections. Indeed, this week sees the inaugural session of an exciting pilot scheme being run with Oxford's Bodleian Libraries

 to bring together students, curators, digital experts, and original manuscripts. The aim is to produce student-curated catalogues of hitherto unpublished letters. Undergraduates and postgraduates are invited to attend standalone sessions in a series of workshops at the Weston Library. Over the course of a day, students will work in pairs to collate the metadata, and produce transcriptions, which will be published in EMLO under the collective title 'Bodleian Student Editions'. Students will be credited in full for their work and each session, which will take place in the Weston's Centre for Digital Scholarship, will focus on a selection of early modern letters from Special Collections and will include guidance on such issues as handling manuscripts; paleography; drafting a transcript; proofreading; collating metadata; and preparing a catalogue in EMLO. We hope very much these workshops will prove productive and helpful for students and staff alike. Students from any discipline may apply by emailing Mike Webb, the Curator of Early Modern Manuscripts [mike.webb@bodleian.ox.ac.uk].