An important step was taken at the beginning of this week as the first batch of metadata for a new catalogue — the collection of Bartolomeo Gamba — was moved into the public interface of EMLO. During his lifetime, Gamba worked as director of the Remondini press, as private librarian to Eugène de Beauharnais, and as sub-keeper at the Biblioteca Marciana. By the time of his death in 1841, he had amassed a collection of circa 4,000 manuscript letters to and from eminent early modern Italian scholars, many of whom were alumni of the University of Padua and amongst whom numbered a significant percentage with close connections to Viennese court physicians.
This time last year, EMLO was approached by the historian Vittoria Feola to explore the possibility of working in partnership with the Österreichische Nationalbibliothek in Vienna,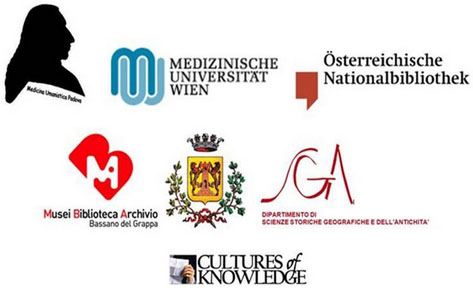 the Biblioteca Museo Civico in Bassano del Grappa, and the Biblioteca Nazionale Marciana in Venice to provide a virtual home for this ground-breaking project. Thanks to generous support and funding from both the University of Padua (DiSSGeA) and the Medical University of Vienna, and with a contribution towards scanning costs from Cultures of Knowlege, we are truly delighted now to be releasing the first installment of the collection's metadata in EMLO. Over the coming weeks and months, letter metadata will be added on a regular basis to this virtual collection, where users will find fully searchable abstracts, keywords, people and places mentioned, and links provided to manuscript images.
In the words of our Project Director, Howard Hotson, 'this is a catalogue with a difference: fresh and original in nature, scope, conception, and execution as well as scholarly and significant in its own right'. Over the coming months we hope you will watch as Gamba's original collection is reunited. The relevance of such a collection to early modern science and to the Republic of Letters cannot be overestimated, nor can the unique insight it offers into the penetration and workings of the English and French book trade in Northern Italy from the second half of the sixteenth to the first half of the nineteenth centuries. These are exciting times and we hope very much Bartolomeo Gamba's epistolary trove will be the first of a growing number of erstwhile collections made whole once again in EMLO.