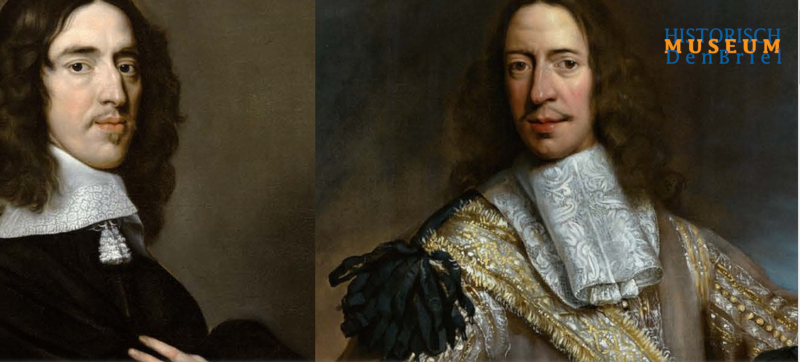 Once again the dedicated and industrious Johan de Witt project team, based at the Huygens ING in Amsterdam under the direction of Dr Ineke Huysman, has been hard at work, and the latest instalment of correspondence metadata to be added to the Johan de Witt catalogue in EMLO consists of a listing of four-hundred-and-twenty letters sent to Johan by his elder brother Cornelis de Witt (1623–1672). Publication of this section of the catalogue has been orchestrated to coincide with the opening of an exhibition on the De Witt brothers, De Gebroeders De Witt. Iconen van de Gouden Eeuw, at the Historisch Museum Den Briel.
At the heart of this exhibition, which has been guest curated by Dr Ronald Prud'homme van Reine, stands the gold and enamel goblet presented to Cornelis de Witt by the States of Holland in 1668. Created by Nicolaas Loockemans (d. 1673), this cup celebrates the actions of Cornelis in June of the previous year when he was selected to accompany Michiel de Ruyter in the infamous (in the Netherlands at least—it tends to be somewhat downplayed in this country) raid by the Dutch navy on the Medway. During this particularly embarrassing episode for the Stuart navy, the Dutch fleet sailed to the coast of Kent, captured the fort at Sheerness, breached the English defensive chainline across the estuary, made their way up the Medway to Chatham—where they burned or captured a number of ships—and left unscathed with both the fourth rate ship the 'Unity' (which had itself been captured from the Dutch just two years previously) and the English flagship the 'Royal Charles' in tow. (And, if you're interested, do read about the subsequent fate of this symbolic prize as a tourist attraction!). The exhibition brings together a complementary selection of paintings, prints, drawings, medals, and portrait busts, and from a regional perspective considers the role of Cornelis as 'ruwaard' (prosecuting attorney) of Putten, the court for which was in Gervliet, just five kilometres from Brill.
As with all the correspondence published thus far in the Johan de Witt catalogue, users are able to follow the link provided in each individual letter record to a digitized image of the relevant manuscript. Access to these images is proving invaluable for scholars, and Dr Huysman, the Johan de Witt team, and the directors and heads of the Dutch libraries and archives involved are to be thanked and commended in equal measure for making this possible.