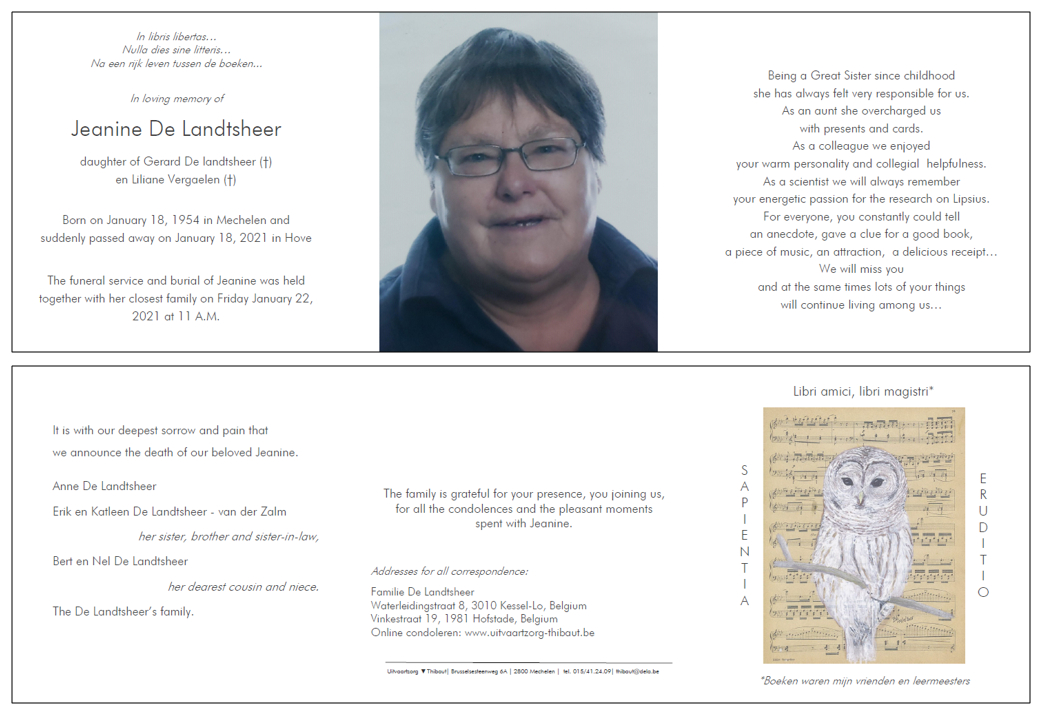 The republic of letters lost a giant with the death of Jeanine de Landtsheer. Her generosity to others, her careful attention to detail, her philological pursuit of pure knowledge, and even a certain otherworldliness mark her out as a true member of that august community of scholars. She embodied its ancient ideals like few others, better even than the humanists she herself studied. She will forever be remembered for her work on the scholarly correspondence of the Leuven humanist Justus Lipsius (1547–1606), a project that she has shepherded for some thirty years, and it was in that capacity that she was affiliated to EMLO and to COST. Her sudden death at the young age of sixty-six has struck those who knew her as a thunderbolt.
My own personal recollections of Jeanine are shaped by her endless generosity. Jeanine had worked on Lipsius since I was in primary school, publishing her first contribution to the long-running Iusti Lipsi Epistolae (ILE) project in 1991. And yet when I began my graduate research in 2006, she unhesitatingly shared with me her unpublished transcriptions and annotations of the many letters Lipsius had exchanged with the Jesuit Martin Delrio—what would become the topic of my masters dissertation. I arrived at Delrio out of an interest in his famous book on witchcraft. It never mattered to Jeanine that I had not trained as a neo-Latinist or completed the Leuven cursus honorum, she patiently answered every question. When I discovered a short letter by Delrio to a fellow Jesuit about Lipsius's reconciliation with the Catholic Church—the most contentious moment of the humanist's biography—we published it together and I was able to look inside the editorial kitchen for myself. I was not special. Jeanine showed the same generous spirit to countless others. There was always a PhD dissertation on her desk that required a final read through before submission. She was instrumental in seeing the publication of ILE's fourth volume to print after a twenty-five-year delay, even though she received very little public credit for it, and she translated the critical apparatus of another ILE volume from Dutch into English to help another colleague. The only thing in life that Jeanine passionately loathed was the international train service between Belgium and the Netherlands. Its endless delays and many cancellations often kept her from consulting her beloved Lipsius manuscripts in Leiden. (No one who has used that train service will blame her.)
Aside from her inability to say no, the other factor keeping her in-tray full was her widely admired attention to detail and her philological acumen. She really was, like Lipsius, 'the darling of the Latin language' (Latii Sermonis ocelle, a caption of a Lipsius engraving which inspired an exhibition in his honour). Yet her linguistic skill extended well beyond Latin. Once while we were together waiting for a flight at Heathrow airport, she struck up a conversation in modern Greek. (She had taken students there on field trips.) Whenever I encounter an ilógico or ilegal in a Spanish text, I am transported to our discussion of Spanish neo-Latinists and their apparent struggles with the double 'll'. Jeanine also possessed a remarkable felicity in the Dutch language. Her translations of Erasmus have won widespread praise. Her short biography of Lipsius, with its choice characterisations of people (especially his wife, the supposedly unmovable, 'honkvaste' Anna van de Calstere), still makes me smile. Jeanine's meticulous attention to detail extended beyond the written word. She often emphasized to me that Lipsius was not Flemish. Born in Overijse, just outside of Brussels, he hailed from the historical duchy of Brabant. He was a Brabanter, like me (and 'Jan,' she rightly observed in an e-mail, 'you wouldn't want to be called a "Hollander" either!').
Despite her often poor health and failing eyesight, Jeanine was widely travelled, faithfully attending the various international neo-Latin and Renaissance conferences. She and I met in Los Angeles, New Orleans, and New York among many other places. The last time I saw her was in the spring of 2019, when we had dinner in Toronto at the end of the Renaissance Society of America conference. In addition to the field trips with students, there were also various expeditions for Lipsius letters and invitations to teach. She was particularly excited by an invitation to Mexico City in 2017 which became even more exciting when an earthquake struck. I will remember, with particular fondness, her long-planned visit to Oxford in 2014 when she stayed in a New College guest room. The trip did not all work out as planned. Refurbishment of the dining hall cancelled a highly anticipated dinner at high table and sent us across the road to Edamame for Japanese instead (probably the better option). Ingrid de Smet also very kindly hosted us for a proper neo-Latin meal at her home. On my visits to Leuven we would always have lunch at Café De Appel. After coffee she would inevitably take the little plastic cups of condensed milk home with her for her cat.
There was never any pretence with Jeanine. She was always heartfelt, sincere. I suspect that early modern letters gave her comfort and clarity. Their words mattered and getting them exactly right mattered too. She was a phenomenal palaeographer. Lipsius's scrawl was virtually indecipherable, even to his contemporaries, yet she always triumphed. I still vividly picture her in the Leiden Special Collections reading room deciphering a marginal note of his that I had come across and which to me looked barely more than a straight line. Yet I don't think I ever persuaded her of Lipsius's self-fashioning, that he was not guileless in the way that she was. Because she was truly sui generis. Her concerns and interests were fully and transparently her own. In our last e-mail exchange, last summer, after I started a fellowship in Dresden, she asked if I could keep any of the commemorative two-euro coins I came across, as the Germans did those so well ('not the omnipresent eagle!'). I must confess that I did not start a collection, but I have looked at the back of every two-euro coin that has since come into my hands (and she was right about them).
Jeanine's scholarship was not unlike that request. With her work on the Lipsius correspondence she was marching to the beat of her own drum. Recognition from others was never her concern, yet she was greatly enriching a wider world of scholarship in ways of which she was never entirely cognizant. She was doing vital work of which few are capable but which is badly needed. As long as I have been in academia, Jeanine was always there, working at her own pace, producing meticulously exact scholarship, a new volume appearing slowly but surely and accurately every few years. If a normal lifespan had been granted her, she would have completed her Lipsius edition, and much more besides. We have lost more than a valued friend and colleague. Her death means something vital and irreplaceable has been lost, as if a star has fallen from the firmament. We shall miss her in big ways and small.
Jan Machielsen
TU Dresden/Cardiff University